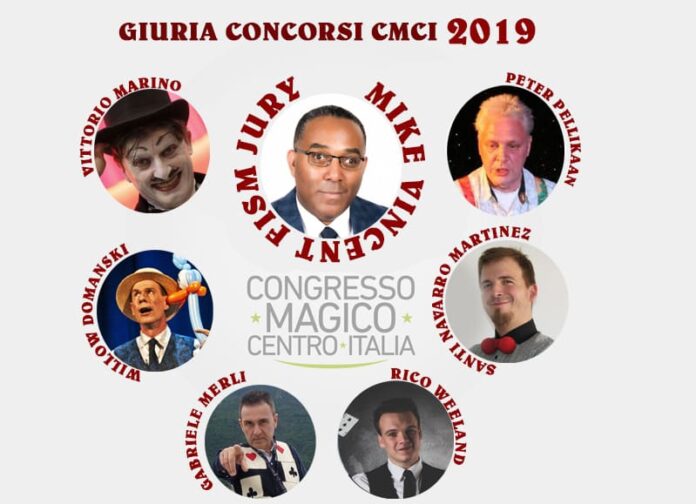 Quand :
12/09/2019
Jour entier
Europe/Paris Fuseau horaire
2019-09-12T00:00:00+02:00
2019-09-13T00:00:00+02:00
Où :
Teatro Talia e Palazzo Ducale
Tagliacozzo
italy
Contact :
Università magica Internazionle
+393282318357
Also this year, at the end of the summer, the 2nd edition of the Centro Italia Magical Congress will be staged from 12 to 15 September 2019, in the charming village of Tagliacozzo, a town perched on the slopes of Mount Civita (L'Aquila).
The event was born from an happy intuition of Gianluigi Sordellini, president of the UMI-International Magic University « Damaso Fernandez » who wanted to bring Abruzzo to the center of magical art, with the support of artists and talents, some never come in Italy from Spain, France, England, Holland.
There will be the artistic director Damaso Fernandez from Spain, international president U.M.I. and Mike Vincent of the historic Magic Circle of London, Peter Pellikaan (Packet Trick), Yago Illusionist (sponge magic), Raul Camaguey (Street Magic), Vittorio marino (Magic theater), Gabriele Merli (Publicity Stunt), Miguel Gomez (Cartomagia), Miguel Angel Gea (Monetomagia), Rico Weeland, Nazario Fatone, Ivo Farinaccia (Idea and effect effects), Anthony Blake (Mentalism), Juan Villarejo (Cartomagia), Giancarlo Scalia, Willow Domansky (Baloon Art), Stefano Paiusco (Bizarre Magick). Other artists are being defined and confirmed.
During the three days there will be conferences and workshops for experienced enthusiasts or beginners, who will be able to enrich their knowledge and their artistic repertoire.
The September 13th show at the Talia Theater will be dedicated to the « Damaso Trophy » with close up contestants and the « Vinicio Raimondi Award » dedicated to stage magic. During the evening there will also be an award ceremony, as an artist of the year 2018/19, by Walter Di Francesco, while Ivo Farinaccia, Gabriele Merli, Alfredo Barrago and songwriter Edoardo De Angelis, author of the song "Il mago and the stars « that will sing live at the opening of the Gala.
All shows will also be open to the public as well as access to the Palazzo Ducale in Tagliacozzo which on this occasion will turn into a Magic Castle, in whose rooms there will be magical mini-shows guided for families and schools and an area set up a « magical village » with lots of magic dealers from all over Europe and a school of Magic that in the three days of the Congress will try to bring the neophyte closer to the timeless charm of Magic Art.
A room will also be reserved for shows by Bizzarre Magik, an evolution of magic whose experiments lead the viewer to witness and experience evocative and mysterious experiences, in which they recreate scenic settings that let us imagine alchemical toilets and high magic laboratories, at the limit of supernatural and fantasy.
The « magic friendly » formula of the Tagliacozzo Magic Congress allows you to live for some days in direct contact with artists that otherwise would be difficult to meet and get to know except through a social channel or a video tutorial. Access to the event is also designed to give continuity to the magical experience: by registering for the Congress, you automatically join the International Magic University and all the educational and training activities for the next 12 months, in addition to the reserved course access online available on the website www.umimagicaluniversity.com
Abonne-toi !
Chaque semaine, je partage tous les
bons plans et actualités
sur l'univers de la magie et du mentalisme.
Rejoins les
16 761 magiciens
déjà abonnés.